About
Crossfit Clemson
Our team of fitness and nutrition professionals are invested in your health. We make every decision with our members' well-being in mind. Achieve your goals with us!
01
Cameron White
Owner
Cameron is the owner of Crossfit Clemson. She is passionate about impacting lives through the improvement of overall health and wellness. She has helped create an inclusive space where a community of people support one another in their journey to better health. She is committed to providing a standard of excellence in every program at CFC.
02
Dr. Elisa Turner, PT
Coach
Elisa brings years of expertise as a physical therapist. Elisa works with clients in her clinic helping them move better whether it be in their daily lives or through sports performance. She is able to bring that same expertise to her group classes as she meets each individual where they are and provides a workout experience tailored to meet their needs.
03
Brooke Pinkos
Coach
Brooke brings years of experience from the health and fitness world. At CFC she leads a lot of our personal training, on-ramp sessions, and is our nutrition coach. Through building better nutrition habits she specializes in helping people lose weight, gain strength and heal their bodies holistically. She is eager to help you reach your health goals inside and outside of the gym!
04
Ian Holder
COACH
Ian started his crossfit journey as a D1 football player. He quickly noticed how helpful the training was for him on the football field. Ian is passionate about helping people find a way to work fitness into their daily lives. He loves being able to positively impact his client's lives through fitness. Ian coaches group classes, does personal training and sport specific training.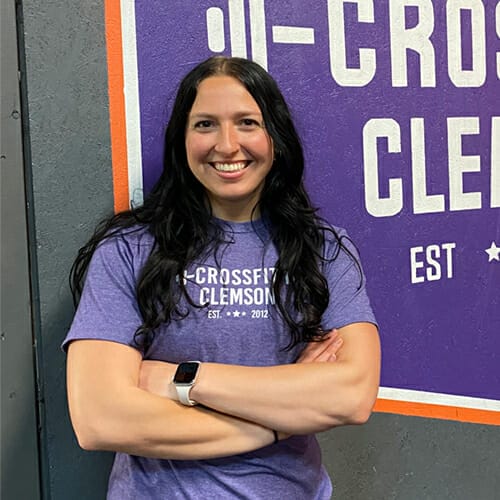 05
Ally Wentworth
COACH
As a former college athlete, Ally found crossfit to continue her growth as an athlete. As a coach, she excels at meeting clients where they are personally in their journey. Clients who work with Ally will be challenged and supported in their goals. Ally leads group classes, does personal training, and sport specific training.
06
Matt Turner
COACH
Matt is a CF-L2 trainer who has been on our team since 2021. He's passionate about helping every person in our space reach their goals. Matt has a degree in Exercise Science and he is currently pursuing a doctorate degree in Physical Therapy. Matt serves as a group class coach and personal trainer.
Take the first step.
We can't wait to meet you
Chat with a coach at Crossfit Clemson to learn more about what program will fit your goals.
Fill out the form below to get started
Take the first step towards getting the results that you want
Free Intro